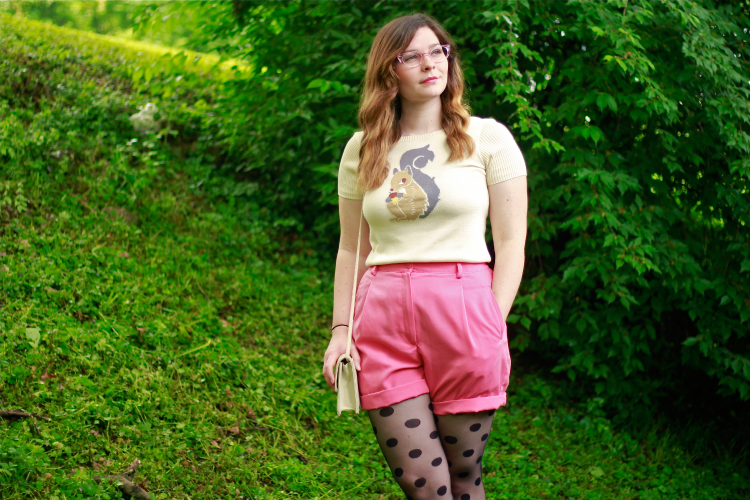 Hello, hello— and welcome, to the most difficult outfit shoot of my blogging career thus far! I think I'm "technically" just supposed to sugar coat this post and be all nonchalant like, "Heyyyy my-darling-plum-muffin-lovelies look at these pics— off to Starbucks! Ciao, Jenna" or whatever buuuuuuut that is not how it happened.
I ventured into my backyard on my day off work with a tripod and then all hell broke loose. Okay, maybe that's an exaggeration. But there was a lot going through my mind as I traipsed back and forth from the camera. It was a little like this:
"Wow, it's really hot outside for 10 am in May."
"Why the heck did I decide to take pictures on a freaking hill?"
"Do I look as sweaty as I feel?"
"Oh god, I think I just ripped my tights on a stick."
"Geeeze, it's hot out here— this tiny sweater is not appropriate for today."
"My hair is going totally Hermione right now."
"Whoaaa, are my shoes
breaking
?!"
Yeah, that's more like it. Man, I love Tennessee but I can look at my hair in all of these pictures and tell exactly what order they were taken in haha. I mean, I really don't mind taking my own outfit photos— I can only talk Nick into taking so many a month for me. Andddd I promised myself I would branch out and get better with my camera so I was actually excited to spend some time alone snapping these. But this time just felt a little like a disaster.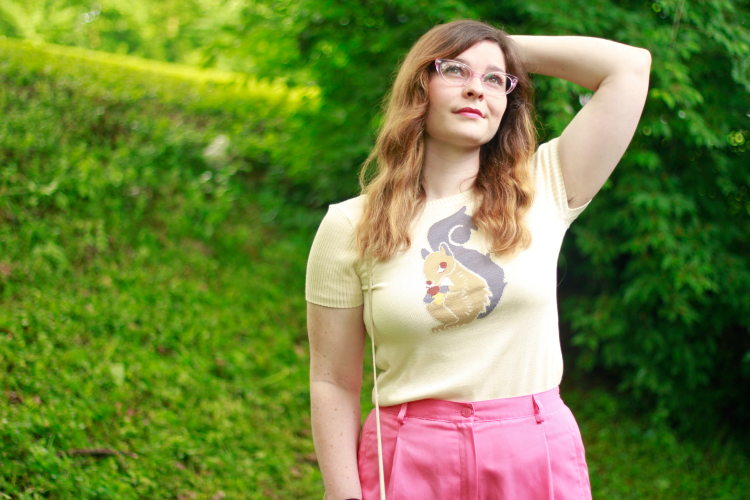 So maybe you can forgive my sort evil eye in that last photo— I was sweaty, my shoe fell apart, and no one was there to tell me my shorts were riding up (gasp!). But it's still one of my favorite outfits ever. Simple top, high waisted shorts, tights + flats— it's a classic "me" look. But I'm not going to lie: it was completely inappropriate for the day and I immediately changed into a not sweater top, a flowy skirt, and sans tights. Better luck next time!
glasses: coastal / top: UO / tights: tabbisocks / shorts, shoes, purse: thrifted
Do you guys have any ridiculous "behind the scenes" stories from outfits or blogging adventures? The only advice I have is to always be wearing a squirrel top. I mean, look at how cute he is! No one can be angry while wearing something this silly! Oh, and
I'm doing a Q & A type post soon so if there's anything you've been dying to know about me then ask away
! Hope you have a great week!